SFTP, FTP and SCP on the go
WinSCP adalah aplikasi yg berfungsi untuk transfer file atau copy file antara windows dengan linux.

WinSCP adalah sumber bebas terbuka SFTP klien dan klien FTP untuk Windows.

Legacy SCP protocol juga didukung.

Fungsi utamanya adalah aman menyalin file antara komputer lokal dan remote.

- Support PortableApps.com's development and hosting

- Donate to WinSCP directly
WinSCP Portable easily integrates with the
PortableApps.com Suite
™.
Features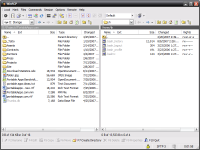 WinSCP Portable is a free SFTP, FTP and SCP client for Windows with lots of great features:
PuTTY Portable integration
Graphical user interface
Translated into several languages
All common operations with files
Support for SFTP and SCP protocols over SSH-1 and SSH-2 and plain old FTP protocol
Directory synchronization in several semi or fully automatic ways
Integrated text editor
Support for SSH password, keyboard-interactive, public key and Kerberos (GSS) authentication
Windows Explorer-like and Norton Commander-like interfaces
Learn more about WinSCP...
Untuk cara Mejalankan Software ini silakan lihat
video
.
Sumber : http://portableapps.com/
| | |
| --- | --- |
| Author | » zul |
| Post Title | » WinSCP Portable |
| Post Url | » http://www.zulmaseke.web.id/2010/12/winscp-portable.html |
| Time | » Rabu, Desember 08, 2010 |
| Responds | » 0 |
| Labels | » download |